Don't you think these would make some gorgeous birthday cards?
These five cards feature the retiring Stampin' Up! products; The Prized Peony stamp set and Peony dies, the 5 In Colors, and retiring In Color Designer Series Paper. These 5 cards were from my In Color Club. I sent these to the club members.
My In Color Club will be starting up again in May when the New Catalog goes live. Would you like to be in my In Color Club? It is a 5 month commitment and one of the months you are the host and will receive the host benefits. Each month you will receive one of the In Colors in ALL the items; 8 1/2″ X 11″ pack of cardstock, spool of ribbon, ink pad, ink refill, marker, blends, jewels, plus 5 handmade cards from me featuring all the In Colors like I have shown here. The cost is $74.00 a month and is payable through a PayPal subscription. If you would like more details or would like to sign up email me: [email protected] and I'll send you the information. (Host month is assigned by the date you sign up to be in the club; first sign up is club host in May, etc.)
Here was another round of In Color Cards featuring the Prized Peony stamp set and Peony Dies.
Do you have paper scraps and don't know what to do with them? I have the PDF files for you. You will find them under the Shop button at the top of my blog under PDF files. There are at least 6 months of card layout PDF files using paper scraps like these cards. This particular months cards featured the retiring Prized Peony stamp set and Peony dies.
I also did a bunch of videos on my YouTube channel featuring the Prized Peony stamp set and Peony dies in a variety of ways.
That's just a few there are more on my YouTube Channel.
Now if you would like to purchase the Prized Peony Stamp Set and Peony Dies before they are gone for good click on the links below: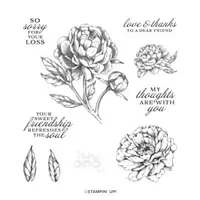 Sale: $19.20
Price: $24.00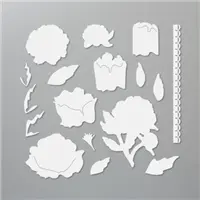 Sale: $20.00
Price: $40.00
Click on any of the supplies you need and add them to your shopping bag.
Don't forget to use the Host Code if your order is under $150.00
Here is the April Host Code: PNCSNP4F
If your order is over $150.00 do NOT use the host code you are your own host and will get the host rewards.
Click HERE for the Retired List.
Click the Specials box below for the Stamp Camp Specials for this month.
Have a Great Day and Happy Stamping!
Retiring Stampin' Up! Products – The items below are ALREADY SOLD OUT!
A WISH FOR EVERYTHING CLING STAMP SET
SENDING HUGS CLING STAMP SET
BLOSSOMS IN BLOOM PHOTOPOLYMER STAMP SET
TIMELESS TROPICAL CLING STAMP SET
IN BLOOM PHOTOPOLYMER STAMP SET
LIGHTHEARTED LINES CLING STAMP SET
DRESSED TO IMPRESS PHOTOPOLYMER STAMP SET
JUSTE LA CLASSE PHOTOPOLYMER STAMP SET
SWEET ICE CREAM PHOTOPOLYMER STAMP SET
BREW SOME FUN CLING STAMP SET
WHAT'S COOKIN' CLING STAMP SET
CREATE WITH FRIENDS PHOTOPOLYMER STAMP SET
DAISY LANE CLING STAMP SET
SUNNY SENTIMENTS CLING STAMP SET
SHARING SUNSHINE PHOTOPOLYMER STAMP SET
BEST CHAPTER PHOTOPOLYMER STAMP SET
A GOOD MAN CLING STAMP SET
HATS OFF PHOTOPOLYMER STAMP SET
AFTER THE STORM CLING STAMP SET
SAILING HOME CLING STAMP SET
NATURE'S BEAUTY CLING STAMP SET
WILDLY ADORABLE CLING STAMP SET
TURTLE FRIENDS PHOTOPOLYMER STAMP SET
PIRATES & MERMAIDS CLING STAMP SET
ALL FOR BABY PHOTOPOLYMER STAMP SET
HIPPO HAPPINESS PHOTOPOLYMER STAMP SET
WAY TO GOAT CLING STAMP SET
HAPPIEST OF BIRTHDAYS CLING STAMP SET
SIMPLY ELEGANT SUITE COLLECTION
ELEGANTLY SAID CLING STAMP SET
ENCIRCLED IN FRIENDSHIP BUNDLE
ENCIRCLED IN FRIENDSHIP CLING STAMP SET
FOREVER BLOSSOMS CLING STAMP SET
FLEURS POUR TOUJOURS CLING STAMP SET
POSITIVE THOUGHTS CLING STAMP SET
FOREVER GRAPEVINE CLING STAMP SET
ORNATE THANKS PHOTOPOLYMER STAMP SET
BEAUTIFUL MOMENTS CLING STAMP SET
FREE AS A BIRD CLING STAMP SET
BACK ON YOUR FEET CLING STAMP SET
SENIOR YEARS CLING STAMP SET
BADGER BESTIES CLING STAMP SET
TIDINGS OF CHRISTMAS SUITE COLLECTION
TIDINGS & TRIMMINGS BUNDLE
TIDINGS & TRIMMINGS PHOTOPOLYMER STAMP SET
FESTIVE FOLIAGE CLING STAMP SET
EVERGREEN ELEGANCE BUNDLE
EVERGREEN ELEGANCE CLING STAMP SET
POINSETTIA PETALS PHOTOPOLYMER STAMP SET
PERFECTLY PLAID PHOTOPOLYMER STAMP SET
SNOWMAN SEASON PHOTOPOLYMER STAMP SET
SEASON'S BLESSINGS BUNDLE
SEASON'S BLESSINGS PHOTOPOLYMER STAMP SET
BANNER YEAR PHOTOPOLYMER STAMP SET
ALL THINGS FABULOUS PHOTOPOLYMER STAMP SET
VERY VERSAILLES CLING STAMP SET
TO THE MOON PHOTOPOLYMER STAMP SET
BIRDS & BRANCHES PHOTOPOLYMER STAMP SET
SWEET SYMMETRY SUITE COLLECTION
IN SYMMETRY PHOTOPOLYMER STAMP SET
LOVE OF LEAVES PHOTOPOLYMER STAMP SET
QUEEN ANNE'S LACE PHOTOPOLYMER STAMP SET
ART IN BLOOM PHOTOPOLYMER STAMP SET
JUST JADE CLASSIC STAMPIN' INK REFILL
BUMBLEBEE CLASSIC STAMPIN' INK REFILL
MAGENTA MADNESS CLASSIC STAMPIN' INK REFILL
2020–2022 IN COLOR STAMPIN' WRITE MARKERS
HOST • Item 155787
PRINCE & PRINCESS HOST PHOTOPOLYMER STAMP SET